About Us
COMPANY HISTORY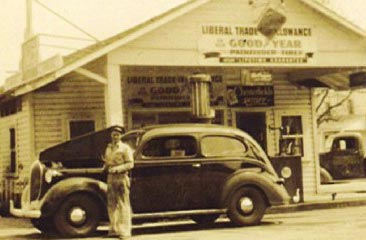 Campbell Oil Company was started in 1948 by Dallas McQueen Campbell, Sr. who was a hard-working, humble, Christian man, and an avid pilot. He was born in Dillon, South Carolina and later moved with his family just across the state line to the small town of McDonald, North Carolina where the family owned a farm. The family would later move to Carvers Creek, North Carolina and continue their farming activities. Mac married Miss Bonnie Mae Hall of Roseboro, North Carolina. She was a school teacher, and they decided to establish their roots in Elizabethtown, North Carolina. They had three children; two sons and a daughter, Mac Jr, Stuart, and Karen.
While service to his family was very important Mac, Sr. also served his country, and was the first man drafted in North Carolina into World War II. Mr. Ralph Boring of the Bank of Elizabethtown wrote a letter of recommendation and described Mac Sr. as, "a young man of unquestionable character and integrity". While these words may seem simple, they continue to be the very foundation of which our company was founded and strives to continue each and every day. Our strong Christian and patriotic belief system is utilized each day as we continue to expand the business. These beliefs serve as the foundation of our CORE VALUES that is used to operate the business.
Mac Sr. was first introduced into the Petroleum Business in the mid-1930's with the opening of his first Service Station called "Mac's Place" which was completely destroyed by fire in 1939. Around early 1941, Mac was drafted into the US Army where he would serve his country for the next several years. In 1948, after returning home from service, he founded Campbell Oil Company with the idea of delivering Petroleum Products to customers in and around Bladen County. Later the business was expanded by adding delivery trucks to supply both Gasoline and Fuel Oil to predominately agriculture accounts in Bladen and surrounding counties. As time went on, additional offices were built and Lubricants were added to the product offering.
In 1968, after graduating from University of North Carolina at Pembroke in Business, Mac Campbell Jr. started working full-time, side by side, with his father in the family business. Mac Jr. married his beautiful wife Sylvia and they had four boys; twins Brian and Chris, McQueen, and Wesley. Mac's father became ill in 1974 and he began running the business while his father recovered. This was a very trying time for the business not only with the absence Mac Sr., but the entire country was struggling through the Oil Embargo. Surviving this period of time was a challenge, but the company made it by working hard to serve its customers.
In 1979, Campbell Oil continued its expansion by acquiring land for its first Convenience Store. A couple of years later before this store was finished Mac Sr. went in the hospital for surgery that was unsuccessful. He passed away on August 7, 1981 just before turning 65 years old. The company owes its continued success to our founder for setting high expectations for how to run a business, but more importantly, how to treat people. Mac Sr. and his loving wife, Bonnie Mae, who was also a large part of the company success, will forever be remembered for their efforts in laying the solid foundation in which Campbell Oil stands on today. (Bonnie Mae Campbell died on May 23, 2007.)
In 1990, two of Mac & Sylvia's sons started in the business to become the 3rd generation of Campbell's involved in the business. Later, in 1998 the youngest son, Wesley, also came back home to work in the business. The only son not active on a daily basis is McQueen, but all of the sons sit on the Board of Directors of the company. While Mac Jr. continues to be a major influence on the business, the 3rd generation of Campbell's are running the company on a daily basis with Brian D. Campbell as President/CEO, Chris Campbell serving as Vice President/Lubricant Sales Manager, and Wesley Campbell serving as Secretary/Retail Division Manager.
The company would also like to acknowledge the great people that we work with on a daily basis. We are blessed to work WITH some truly fine and hardworking people that are like family to us. They are also at the very foundation of the company's success.
OUR MISSION
We recognize that we are in the service business and we know that our customers are responsible for an overwhelming part of our success.
We realize that our largest asset is our employees. They are the keys to our success. We approach business as a team effort and we welcome input from employees through employee questionnaires and personal conversation.
We know that our diversity of products and services, our employees and our customers have enabled and promoted our success.
Our slogan: "Customer Satisfaction is Our #1 Priority"
We focus on and are proud of our 24 hour / 7 day a week customer service.